Security for your home – various security technologies at a glance
5 min read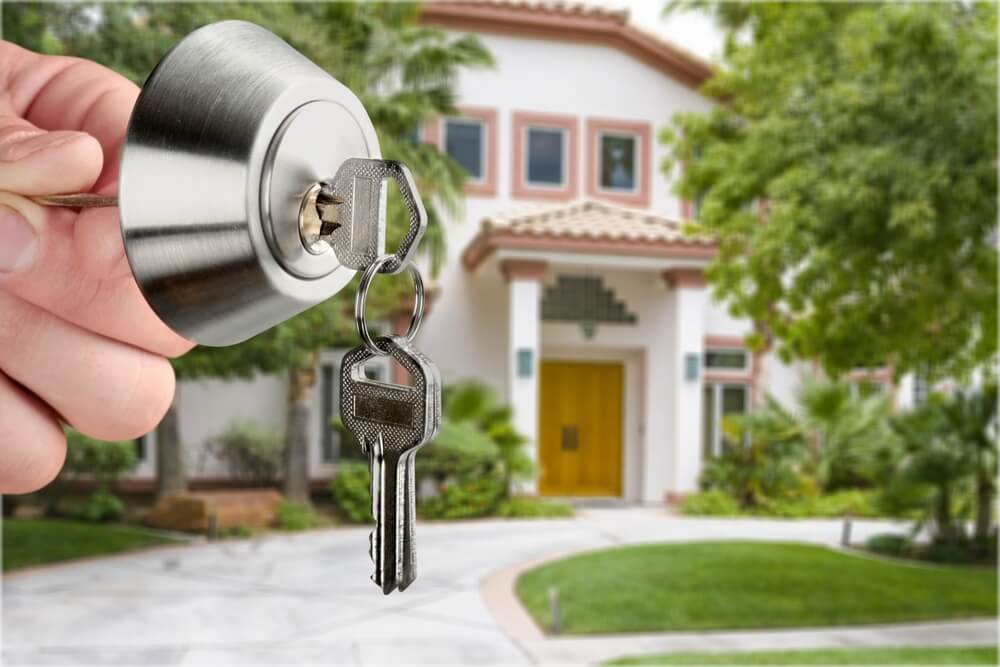 Burglary protection in your home is an important issue that you should consider from the start when building a house. Because safety in and around the house means the quality of life. Above all, because we want to feel safe and comfortable in our home
Of course, you can also upgrade your house afterward with modern security technology. However, if you think about preventive burglary protection when building your house, you will save yourself a lot of work later. We will show you how you can use modern security solutions to make your home burglar-proof right from the start.
Why is home security so important?
Almost every second crime recorded in the police crime statistics is a theft. It includes burglary. Many people don't realize that burglaries don't always happen in complete darkness or when you're away for a long time, such as when you're on holiday. Most burglaries occur during the day, such as at school, work, and shopping times, in the early evening, or on the weekends. In short: burglaries can happen at any time and are often a drastic experience for those affected.
This is precisely why it is so important to take preventive measures that make attempted break-ins more complicated and, in the best case, prevent them entirely. It would help if you thought about this as early as possible – ideally already when building the house.
How do burglars gain access to your home?
To specifically prevent burglaries in your own home, it is worth looking at the most common types of burglary. Most burglaries take place via these routes:
Ground level and unsecured windows and doors
Cellar doors and windows as well as light shafts
Windows on the higher floors, which are easy to reach, for example, over trees and outbuildings
Apartment doors of the top floor apartment in apartment buildings
How do you make your home safe?
The time factor plays a decisive role in burglaries. Statistics show that an average break-in attempt lasts no longer than five minutes. If the perpetrator fails in penetrating the target object within this time, he usually abandons his intention.
To make your home more secure, you should be aware of potential weak points that allow burglars easy and, above all, quick access. For example, does your house have many low-lying and easily accessible windows? Do you have an easy-to-open patio door or maybe unsecured basement windows? Every detail is essential and should consider carefully.
Tip: If you want to be on the safe side, there is also the option of getting free advice from a criminal police advice center. There, specialists will look at your domestic situation on-site and recommend appropriate preventive measures.
The following applies to home security:
Check the weak points in the house.
Prevent burglaries – especially during the holiday season.
Create adequate protection using modern security technologies.
What safety precautions have you already taken?
In the following, we will give you an overview of various security techniques that you can use to improve protection against burglary in your home.
Modern video surveillance
With video surveillance, you know who is ringing your doorbell or walking in and out of your property. You always have an overview of your home from anywhere. Video surveillance helps in the event of an actual event and has a preventive effect. A visible surveillance camera often deters potential perpetrators and abandons the planned project.
Alarm systems and sirens
Alarm systems usually consist of a burglar alarm control panel linked to other alarm detectors, such as motion detectors, cameras, window locks, or door closers. If necessary, the intruder alarm panel activates an acoustic signal with an alarm siren in the event of suspicious activity in or around the house. It is intended to scare off potential burglars. A distinction is made between different tasks of an alarm system:
Monitoring when someone is present: With this variant, the alarm system only scans the windows and entrances (the so-called "outer skin monitoring"); the rest of the house's interior is not guarded. The alarm siren only sounds when suspicious activity is detected outside your home. You are therefore not in danger of triggering the alarm system.
The monitoring when you're away: If nobody is at home, the alarm system monitors the outside and the inside. The alarm siren will sound if suspicious activity is detected (inside or outside your home).
Security at the door
Doors generally have a high-risk potential since perpetrators can easily break open, unsecured doors. Anyone building a new home should, therefore, definitely opt for a burglar-resistant door. Burglar-resistant doors consist of coordinated elements: door leaf, frame, lock, and door fittings, which do not have any weak points. A burglary-resistant door of resistance class 2 or 3 is classified as sufficient for private houses. In addition, you can improve your door with an armored bolt and mechanical door hinges if you want to retrofit it.
Necessary: Cellar and side doors should also be secure. Many housebuilders do not think about this sufficiently, so they later represent weak points that perpetrators can take advantage of.
But you should consider the nature of the door and the type of access control. Conventional door locks are no longer the first choice here. You do not need a key with a smart locking system, but you gain more control and security. To open your door with an electronic locking system, the following options are possible:
transponder tag
Code
Fingerprint door opener
App
Smart door locks are often wireless and battery-operated. The batteries last at least several months.
Security at the window
Windows and patio doors are the most popular entry points for burglars – no wonder since most windows are not secured or only very poorly secured. Without additional security measures, even closed windows are not a major obstacle for perpetrators. The same applies to windows as to doors: They should at least meet the requirements of resistance class 2.
For even greater burglary protection on the window, you can do the following:
Install lockable additional security devices such as anti-burglary devices
Install burglar-proof roller shutters
Secure terrace or balcony doors with roller grilles or lattice doors
Put bars in front of the basement windows
Retrofit with security fittings
Retrofit with lockable window handles
Use safety glass when installing new windows or retrofit with anti-shatter films
Automated outdoor lighting
Simple but effective are bright outdoor spotlights. With these, you can illuminate the garden, terrace, and driveway in the dark and effectively provide more control on your property. It becomes even safer if you connect your headlights to motion detectors. The motion detectors detect activity on your property, turn on the headlights automatically and deter uninvited guests.
Safety at home – conclusion
When building a house, you should pay particular attention to the nature of the doors and windows. It is important to ensure that these meet resistance class 2. In addition, it is worth investing in a sophisticated surveillance system consisting of surveillance cameras, motion sensors, an alarm system or siren, and appropriate lighting. Finally, you connect the individual components (e.g., garden lighting and motion detectors).
If you attach particular importance to security devices with great customization options and the latest technologies, it also makes sense to think about a smart home security system. Learn more about the benefits of smart security devices in our post on smart home security.
Don't worry about home security locksmith Tampa helping out and securing your home.
About Author